With the summer in full swing, there is nothing that I love more than taking advantage of the warm months and wearing a sweet little summer dress. Whether it is a day at the park, a wedding or a date, there are very few occasions where a summer dress is not appropriate. Coming in every shade and print under the sun, from red, blue, florals and polka dots, a summer dress has the ability to unleash your inner fun, frilly and, girly side for the whole world to see.
Take a look below to see summer of my favourite summer dresses:
Candy Striper
Stripes are a classic, synonymous with nautical looks and pretty much works with everything from dresses, pants, blouses, blazers and, shirts. In a summer dress, stripes add a timelessness that is also cute and fun. Whenever I have a semi-formal day event to attend, I love to wear this green and cream striped summer dress. Although the accessories are simple in this photo, this dress would look just lovely with a pink floral pin for an element of colour contrast, a ladylike handbag and my favourite strappy high-heeled sandals.
Hello Dotty
Versatile, ruby red with a sweetheart neckline and side tie to boot, this little number is one of my top choices when going on a summer date as it has the right amount of flirtatious innocence, which is ideal for one-on-one time with your sweetie. Fortunately, this dress can also be worn for a day look with a pair of flat strappy sandals and handbag with lots of hardware but for nighttime, I decided to add some glamour to this sweet dress. I accessorized this look with a Chanel-inspired quilted gold handbag, statement necklace and some neutral strappy high-heeled sandals.
Fifty Shades of Blue
Despite the lighthearted nature of a summer dress, when made in a darker colour in a fabric such as lace, it ups the nighttime appeal. Accessorized with a dark coloured evening bag in a saucy peacock print and cocktail ring, the summer dress is now transformed and ready to wear to many an evening affair. With its slightly '60's appeal, this particular summer dress would also look nice if it were accessorized with a stack of metallic bangles and long-chained charm necklace with a ballerina bun.
Do you love to wear summer dresses? How do you like to accessorize your summer dress? Which summer dresses are your favourite?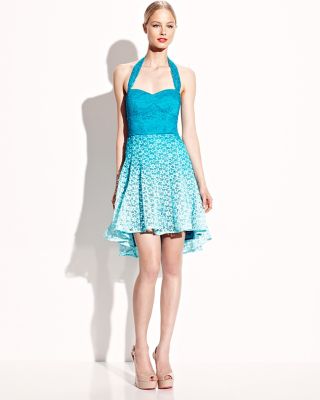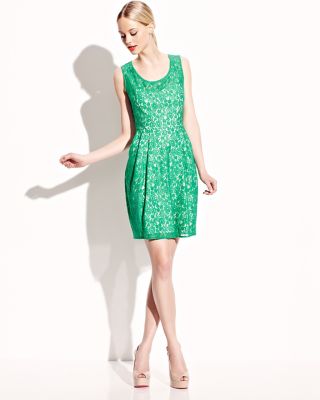 Let me know your thoughts on summer dresses in the comments,
Facebook
and,
Twitter
! Don't forget to check out Amanda's Fashion Spot on
Pinterest
and
Instagram
!
Amanda
amandasfashionspot@gmail.com
Twitter: @AFSpot
Pinterest: AFSpot
Instagram: AFSpot